News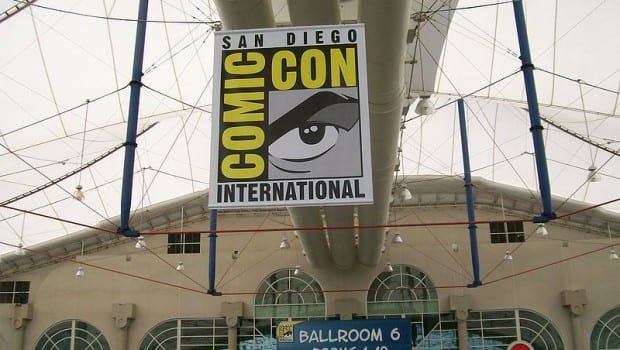 Published on Luglio 22nd, 2010 | by ila
0
Arriva il Comic-Con 2010… Ecco il programma!
Si apre nella giornata di oggi l'attesissimo evento di risonanza mondiale del "San Diego Comic-Con International", più semplicemente conosciuto come "Comic-Con", che si svolgerà nella città di San Diego in California fino al prossimo 25 luglio. Dura quattro intensi giorni una delle più grandi e famose convention del mondo dedicata originariamente al fumetto, ma che negli anni è diventata veramente multigenere, inglobando il mondo delle arti a 360 gradi: fumetto, cinema, videogiochi, animazione, televisione, horror e fantasy, manga e anime, giocattoli ed editoria specializzata, e tutta la cultura pop più cool del momento! Grandi espositori e stand, convegni, workshop, importanti anteprime e soprattutto star e professionisti disposti a condividere la propria arte con i fan provenienti da ogni parte del mondo.

Qui sotto vi riportiamo il gustoso programma con i principali eventi del Comic-Con 2010!  22 LUGLIO 10.00-11.00 Dreamworks animation presenta "Megamind". 10.30-11.30 incontro con Danny Elfman 10.30-11.30 il sito TheOneRing.net parla dei prossimi due capitoli cinematografici dedicati al libro "The Hobbit". 11.15-12.45 The Walt Disney Pictures presenta "Tron Legacy", in sala il regista Joe Kosinski, produttori e cast al completo (Jeff Bridges, Garrett Hedlund, Olivia Wilde, Michael Sheen e Bruce Boxleitner). 13.00-14.00 Sony Pictures Entertainment presenta "Battle: Los Angeles" in sala il regista Jonathan Liebesman e cast (Michelle Rodriguez, Aaron Eckhart, Neal Moritz) "Salt" di Philip Noyce con Angelina Jolie (guest da confermare) 16.45-17-45 Lionsgate presenta "The Expendables", proiettate scene inedite intervengono tra gli altri Sylvester Stallone e Dolph Lundgren. 18.00-19.00 Universal presenta "Scott Pilgrim vs. The World" presente in sala team creativo e cast al completo compreso il protagonista Michael Cera. 22,00-0.00 Premiere mondiale di "Lost Boys-The thirst" presenti in sala Corey Feldman e Jamison Newlander. 23 LUGLIO 11.15-11-45 Summit Entertainment presenta l'action-thriller con Nicolas Cage "Drive Hungry 3D" (guest da confermare) 13-00-14.00 presentazione della comedy "Super" intervengono regista, produttore e cast al completo tra cui Liv Tyler, Nathan Fillion e Michael Rooker. 14.15-15-45 Miramax presenta l'horror "Don't be afraid of the dark" intervengono il regista Troy Nixey e il produttore Guillermo del Toro. 16-00-18.00 Sony Pictures Entertainment presenta: "The other guys" intervengono Will Ferrell, Mark Wahlberg, Eva Mendes e il regista Adam McKay. "The green Hornet 3D" intervengono il regista Michael Gondry e i protagonisti Christoph Waltz e Seth Rogen. "Priest 3D" intervengono il regista Scott Stewart e gli attori Paul Bettany, Karl Urban, Maggie Q, Cam Gigandet e Stephen Moyer. 18.00-19.00 panel per il cinefumetto "The Goon". 19.30-20.30 presentazione del sequel direct-to-video "30 days of night-Dark days".  24 LUGLIO 11.45-13.45 Warner Bros presenta: "Green Lantern", "Sucker Punch" e "Harry Potter e i doni della morte" (guest da confermare). 16.00-16-45 Screen Gems presenta: "Resident Evil: Afterlife" in 3D intervengono il regista Paul W. Anderson e gli attori Milla Jovovich, Ali Larter e Wentworth Miller. 16-45-17.45 Universal presenta: "Cowboys & Aliens" intervengono il regista Jon Favreau e i protagonisti Harrison Ford e Daniel Craig. "Paul" comedy-fantascientifica di Greg Mottola tra gli ospiti i due protagonsiti Simon Pegg e Nick Frost. 18-00-19.00 Marvel Studios presenta first look su "Thor" e "Captain America: First avenger" (guest da confermare).  25 LUGLIO 12.00-13.00 Wildstorm presenta Focus su "Red", action con Bruce Willis (guest da confermare) Ovviamente Cinezapping cercherà di informarvi tempestivamente su tutte le anteprime  e le novità presentate a San Diego, mostrandovi foto e video esclusivi! A partire da questa giornata di apertura dove il kolosso Dreamworks porterà il suo nuovo progetto di animazione "Megamind", Walt Disney Pictures presenterà "Tron Legacy" e la Universal sarà presente con "Scott Pilgrim vs. The World"… insomma i titoli più attesi della prossima stagione! Allora… Buon Comic-Con a tutti!