News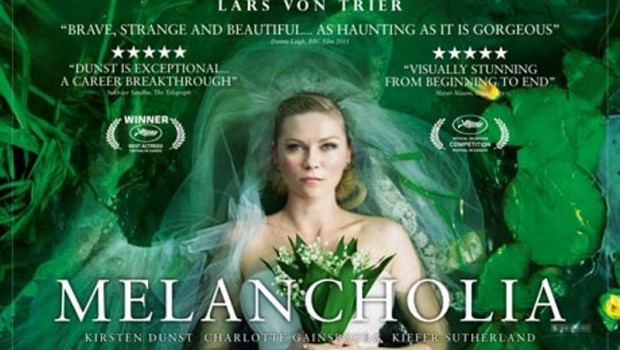 Published on Gennaio 9th, 2012 | by Marco Valerio
0
Melancholia miglior film per la critica americana
Snobbato dai vari precursori agli Oscar (e con tutta probabilità sorte non diversa sarà riservata dall'Academy), "Melancholia" di Lars Von Trier è uno dei film maggiormente apprezzati dalla critica statunitense.
Ulteriore conferma in tal senso è arrivata dai premi della National Society of Film Critics, commissione composta da 58 dei più importanti critici americani. "Melancholia" ha vinto il premio come miglior film alla quarantaseiesima edizione del premio annuale dell'NSFC. Il film di Lars Von Trier si è inoltre aggiudicato il premio per la migliore interpretazione femminile assegnata a Kirsten Dunst, già premiata a Cannes.
"Melancholia" ha diviso critica e pubblico, tanto che anche noi di CineZapping vi abbiamo proposto due recensioni tra loro contrastanti. Qui ve le riproponiamo:
https://www.cinezapping.com/melancholia-recensione/
https://www.cinezapping.com/melancholia-recensione-anteprima/
Altro film amato dalla critica, snobbato da Golden Globes e Guild Awards e premiato a Cannes è "The Tree of Life" di Terrence Malick. Il regista texano è stato insignito del premio come miglior regista, mentre un altro beniamino dei critici americani come "Una Separazione" ha vinto due premi, vale a dire quello come miglior film straniero e come miglior sceneggiatura (Asghar Farhadi).
Tra gli assenti nella lista dei vincitori Michael Fassbender e George Clooney per "Shame" e "Paradiso Amaro", tra i favoriti per la nomination all'Oscar. Ad essere premiato in questa categoria è stato invece Brad Pitt, risultato miglior attore sia per "L'Arte di Vincere" che per "The Tree of Life".
"Melancholia", ad oggi, è il maggior successo critico oltre che miglior risultato al box office per Lars Von Trier negli Stati Uniti.
Questo l'elenco completo dei vincitori:
BEST ACTOR
*1. Brad Pitt – 35 (Moneyball, The Tree Of Life)
2. Gary Oldman – 22 (Tinker Tailor Soldier Spy)
3. Jean Dujardin – 19 (The Artist)
BEST ACTRESS
*1. Kirsten Dunst – 39 (Melancholia)
2. Yun Jung-hee – 25 (Poetry)
3. Meryl Streep – 20 (The Iron Lady)
BEST SUPPORTING ACTOR
*1. Albert Brooks – 38 (Drive)
2. Christopher Plummer – 24 (Beginners)
3. Patton Oswalt – 19 (Young Adult)
BEST SUPPORTING ACTRESS
*1. Jessica Chastain – 30 (The Tree Of Life, Take Shelter, The Help)
2. Jeannie Berlin – 19 (Margaret)
3. Shailene Woodley – 17 (The Descendants)
BEST PICTURE
*1. Melancholia – 29 (Lars von Trier)
2. The Tree Of Life – 28 (Terrence Malick)
3. A Separation – 20 (Asghar Farhadi)
BEST DIRECTOR
*1. Terrence Malick – 31 (The Tree Of Life)
2. Martin Scorsese – 29 (Hugo)
3. Lars von Trier – 23 (Melancholia)
BEST NONFICTION
*1. Cave Of Forgotten Dreams – 35 (Werner Herzog)
2. The Interrupters – 26 (Steve James)
3. Into The Abyss – 18 (Werner Herzog)
BEST SCREENPLAY
*1. A Separation – 39 (Asghar Farhadi)
2. Moneyball – 22 (Steven Zaillian, Aaron Sorkin)
3. Midnight In Paris – 16 (Woody Allen)
BEST FOREIGN-LANGUAGE FILM
*1. A Separation – 67 (Asghar Farhadi)
2. Mysteries Of Lisbon – 28 (Raoul Ruiz)
3. Le Havre – 22 (Aki Kaurismäki)
BEST CINEMATOGRAPHY
*1. The Tree Of Life – 76 (Emanuel Lubezki)
2. Melancholia – 41 (Manuel Alberto Claro)
3. Hugo – 33 (Robert Richardson)
EXPERIMENTAL
Ken Jacobs, Seeking The Monkey King
FILM HERITAGE
1. BAMcinématek for its complete Vincente Minnelli retrospective with all titles shown on 16 mm. or 35 mm. film.
2. Lobster Films, Groupama Gan Foundation for Cinema and the Technicolor Foundation for Cinema for the restoration of the color version of George Méliès's "A Trip to the Moon."
3. New York's Museum of Modern Art for its extensive retrospective of Weimar Cinema.
4. Flicker Alley for their box set Landmarks Of Early Soviet Film.
5. Criterion Collecton for its 2-disc DVD package The Complete Jean Vigo.