News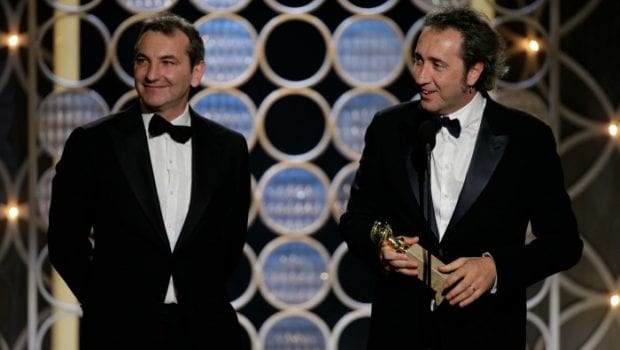 Published on Gennaio 13th, 2014 | by sally
0
"La grande bellezza" premiato ai Golden Globes: tutti i vincitori
Si sono conclusi i Golden Globes 2014, con un'annata di film davvero di alta qualità, il trionfo di "American Hustle", tra i più premiati e di Alfonso Cuaron come miglior regista per "Gravity".

Ma c'è una nota positiva anche per l'Italia che lascia sperare bene per gli Oscar, Paolo Sorrentino con "La grande bellezza" si è aggiudicato il premio come miglior film straniero. Sempre tornando ad "American Hustle", è stata gradita ancora una volta la performance della giovane Jennifer Lawrence, ormai lanciatissima dopo aver ricevuto una statuetta d'oro per "Il lato positivo".
Non manca un premio nemmeno alla perfetta esibizione di Cate Blanchett in "Blue Jasmine", premiato anche Leonardo DiCaprio per "The Wolf of Wall Street", mentre "12 anni schiavo" vince il premio come miglior film drammatico, "Frozen – Il regno di ghiaccio" è il miglior film d'animazione "Behind the candelabra" come mini-serie, nel mondo delle serie tv è "Breaking Bad" ad ottenere il più grande successo, come prevedibile. Una distribuzione equilibrata dei premi, nonostante la scelta sia stata particolarmente difficile, ecco qui la lista completa dei vincitori.
Best Motion Picture – Drama
12 Years A Slave
Best Motion Picture – Comedy Or Musical
American Hustle
Best Director – Motion Picture
Alfonso Cuaron, Gravity
Best Performance By An Actor In A Motion Picture – Drama
Matthew McConaughey, Dallas Buyers Club
Best Performance By An Actress In A Motion Picture – Drama
Cate Blanchett, Blue Jasmine
Best Performance By An Actor In A Motion Picture – Comedy Or Musical
Leonardo Dicaprio, The Wolf Of Wall Street
Best Performance By An Actress In A Motion Picture – Comedy Or Musical
Amy Adams, American Hustle
Best Performance By An Actress In A Supporting Role In A Motion Picture
Jennifer Lawrence, American Hustle
Best Performance By An Actor In A Supporting Role In A Motion Picture
Jared Leto, Dallas Buyers Club
Best Screenplay – Motion Picture
Spike Jonze, Her
Best Foreign Language Film
La Grande Bellezza
Best Animated Feature Film
Frozen
Best Original Song – Motion Picture
Ordinary Love, Mandela: Long Walk To Freedom
Best Television Series – Comedy Or Musical
Brooklyn Nine-Nine
Best Television Series – Drama
Breaking Bad
Best Performance By An Actress In A Television Series – Comedy Or Musical
Amy Poehler, Parks & Recreation
Best Performance By An Actor In A Series, Mini-Series Or Motion Picture Made For Television
Michael Douglas, Behind The Candelabra
Best Performance By An Actor In A Television Series – Comedy Or Musical
Andy Samberg, Brooklyn Nine-Nine
Best Performance By An Actress In A Television Series – Drama
Robin Wright, House Of Cards
Best Performance By An Actor In A Supporting Role In A Series, Mini-Series Or Motion Picture Made For Television
Jon Voight, Ray Donovan
Best Performance By An Actor In A Television Series – Drama
Bryan Cranston, Breaking Bad
Best Performance By An Actress In A Mini-Series Or Motion Picture Made For Television
Elisabeth Moss, Top Of The Lake
Best Mini-Series Or Motion Picture Made For Television
Behind The Candelabra